Paris Rises as a Banking Powerhouse Post-Brexit
In the wake of Britain's decision to exit the European Union in 2016, Paris has remarkably seized the opportunity to fortify its presence in the financial world. According to recent statements from the Bank of France, the French capital's post-Brexit success in drawing banks from London has surpassed predictions, marking a significant uptrend in the country's economic records.
The 2016 Brexit verdict initiated a scramble among European cities to lure financial institutions looking for a new European base. While cities like Frankfurt, Amsterdam, and Dublin joined the competition, the French government made aggressive moves to persuade global banks to relocate their European operations to Paris. Their efforts have not been in vain as many major banks have significantly expanded their presence in Paris, even setting up regional trading hubs.
Bank of France Governor, Francois Villeroy de Galhau, expressed his optimism during a press meet where he detailed the annual report on France's balance of payments. He noted, "Paris' post-Brexit success has been spectacular. It's not only meeting but exceeding our expectations." 
This relocation trend is not merely a nominal shift. The balance of payments data showcases the economic gains with firms that relocated from London to Paris adding a staggering 1.5 billion euros to France's financial services surplus just last year. By 2023, transactions by France-based financial services firms with the global market reached an unprecedented 10.4 billion euros. This figure is notably double the amount recorded at the time of the Brexit vote in 2016. The surge has been primarily attributed to an increase in commissions on securities and currency trading.
Besides the banking sector, France's services surplus saw a record boost from other areas as well. The tourism industry, always a staple for the French economy, continued to flourish. Additionally, the maritime sector, driven by high shipping rates and the presence of shipping behemoth CMA-CGM in France, further bolstered the nation's economic position.
However, every silver lining has a cloud. Despite the commendable performance in the services sector, France registered a significant current account deficit of 53.9 billion euros last year. This deficit, equating to 2% of the country's economic output, is attributed to the soaring costs of energy imports which overshadowed the services surplus.
In conclusion, while challenges persist, Paris's emergence as a formidable financial hub post-Brexit underscores its resilience and adaptability in the ever-evolving global economic landscape.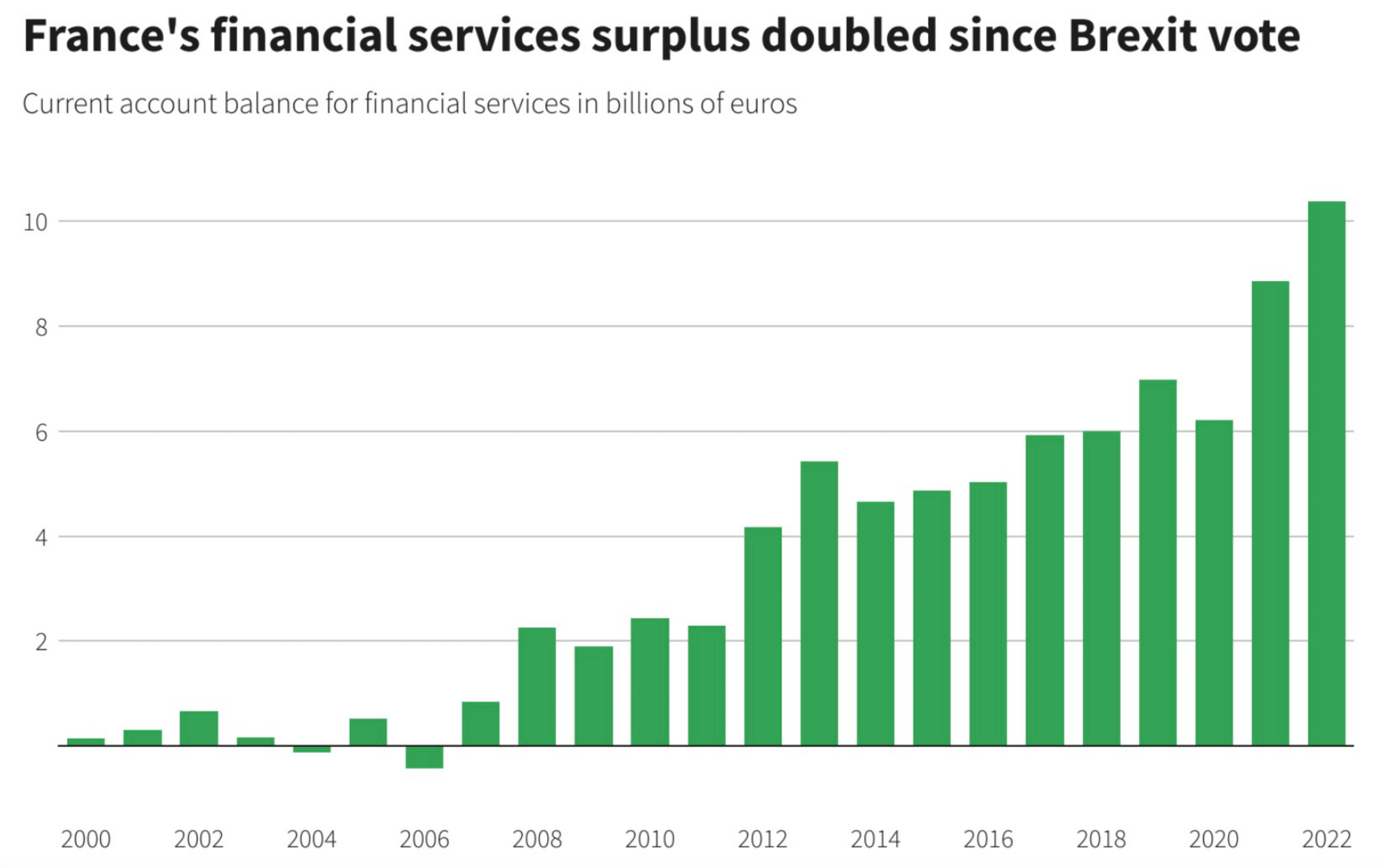 Investment Banking: A Brief Insight
Investment banking is one of the essential branches of the banking world, alongside retail (or commercial) banking and central banking.
Retail banking deals with the financial needs of individuals. For example personal loans, mortgages and savings accounts. Central banks, supervise and regulate a country's entire banking system, issuing currency and setting monetary policy.
Specializing in fundraising and advisory services, investment banks serve as intermediaries between entities in need of capital, such as businesses and governments, and potential investors. When a company plans to go public through an initial public offering (IPO), it draws on the expertise of investment banks. These assess the value of the company, set an appropriate price for the securities and manage their sale.
In addition to facilitating capital flows, investment banks play a critical advisory role in major financial decisions, including mergers and acquisitions (M&A). They provide insights into business valuations, deal negotiations and deal structures.
However, the sector is not without criticism. Potential conflicts of interest emerge when a bank assumes multiple roles in a transaction. For example, the Goldman Sachs and Abacus 2007-AC1 case was widely publicized for such conflicts, where the bank was criticized for helping to structure and sell a product while simultaneously betting against it. Additionally, high compensation for investment bankers is often the subject of public attention and debate. Nonetheless, investment banking remains essential, driving economic progression and fostering business growth.